I love remodeling, so much so that I start getting antsy when it's been a while since we've ripped down a wall. When we bought the house I was excited. It was flipped so it was ready to live in, but the bland basement was just begging for personality and there was a lot to update with the rest of the house to add a ton of equity.
I would have loved an even older home to really get out hands into it, but John sees knob and tube wiring, falling foundations and terrible insulation and it puts him off. But enough of my rambling and onto our new project.
The only basement room to not see our paintbrushes and power tools was my craft room. I was deathly tired of the view, needed storage for my growing fabric collection and we had the money so I suggested to John we put on our contractor hats. John wasn't hard to persuade since he loves remodeling as much as me, but left it up to me to decide on the designing basics.
That's where I stalled for a while because I was having a hard time picking all on my own. In past remodels I always had to keep John's opinions on my mind, surprisingly it was harder just thinking about me. My want list started out huge and expensive so I had to rein myself in.
The room was always going to be purple, I decided that a long time ago, but finding the perfect purple seemed to be a challenge. I also was going to do wallpaper on one wall, but so many factors were making me unhappy. I didn't want to scrape it off later if the room needed to change, all the ones I kept liking were high in price and I liked a lot, but didn't love any. Finding silver accented wallpaper that I loved and had to have was proving to be difficult.
Because of these factors I ignored the project for weeks, but John needed to know my wants so he could actually work. He finally gave me a deadline, I don't work well under pressure, but it did light a fire and I got back to work.
I nixed the wall paper because of my above reasons and I know to go with my gut, if I don't love it it's not for me. I still wanted silver accents so I decided to buy a stencil to paint on the silver. Holy crap!! Stencils are EXPENSIVE!! But since buying one stencil would be cheaper than a roll of wall paper I went with it.
I finally picked one, I'm just hoping I like it in the end. I bought it off Etsy from DIY Stencils.
Then it was time to get to the purple business. Lowes and Home Depot were a wash for me so I turned to Pinterest and Benjamin Moore. I finally settled on Tropical Dusk, I think it looks darker and more gray in person.
The layout has changed a little since this picture and
this time
(thankfully I never let it get that bad again. The break-in made me not want to be in the room, but after I cleaned it back in 2011 I've used the room almost every day), but you get the idea of the room.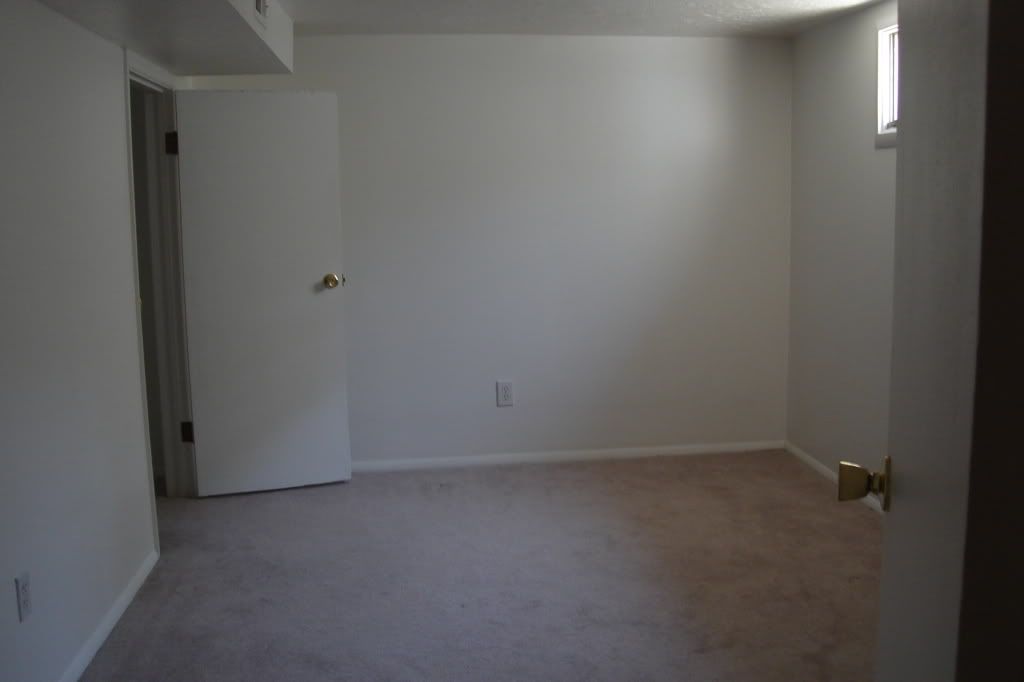 The door that lead to a closet under the stairs has always bothered me by taking up floor space. I nicely asked if John could turn it into a pocket door which he, of course, had to take it to another level, but that will come in a later post.
John has already started on the room and the pocket door kit has already been installed. The carpet and moldings has also been torn out too.
Speaking of flooring, I really wanted to be able to the same flooring in the hallway, but it just wasn't working with my designs. So, with John's help, I picked out a pergo flooring from RC Wiley. The color is called Java, but it seems like everything I like is called Java. :)
The last thing I've picked out, but haven't bought is a light fixture. The fixtures I was liking were closer to $300 and I really was going to splurge, but then I came to my senses and went cheaper.
I'm really excited about it and it would have been the first thing I would have bought if it wasn't the last thing I needed.
Things are coming along smoothly and I'm blissfully hoping that the room can be usable (notice how I said usable, not done) within a month so I can get back to sewing.